Colchester Stampede 10k 2023
May 14, 2023
£34.00 – £160.00
38% event capacity filled
Entry Limit: 2000
Event Details:
5/14/23 9:00 am - 5/14/23 10:30 am
Colchester Zoo, Maldon Rd, Stanway, Colchester, CO3 0SL
COLCHESTER STAMPEDE 10k
Come and run at Colchester Zoo, home to over 260 species and set in 60 acres of parkland and lakes!
The Zoo is proudly listed in the top 2 zoos in the UK and listed as 11th best zoo around the world as part of the TripAdvisor Travellers' Choice Attractions.

On Sunday 14th May 2023 you will have the unique chance to run the Colchester Stampede 10k at Colchester Zoo. The event, which supports the charity Action for the Wild, will run through the Zoo for 1k before heading out onto the closed roads before finishing back inside the Zoo.
*THERE IS A STRICT 90 MINUTE CUT OFF TIME FOR THIS EVENT DUE TO THE ROAD CLOSURES! 
If you have any concerns please contact us at [email protected].
Included in the entry is:
– FREE Colchester Zoo Entry (worth £23.99)
– NEW Unique Themed Medal
– FREE Official Race Photos
– Chip Timed Results
– Post Race Goodies
NEW MEDAL DESIGN!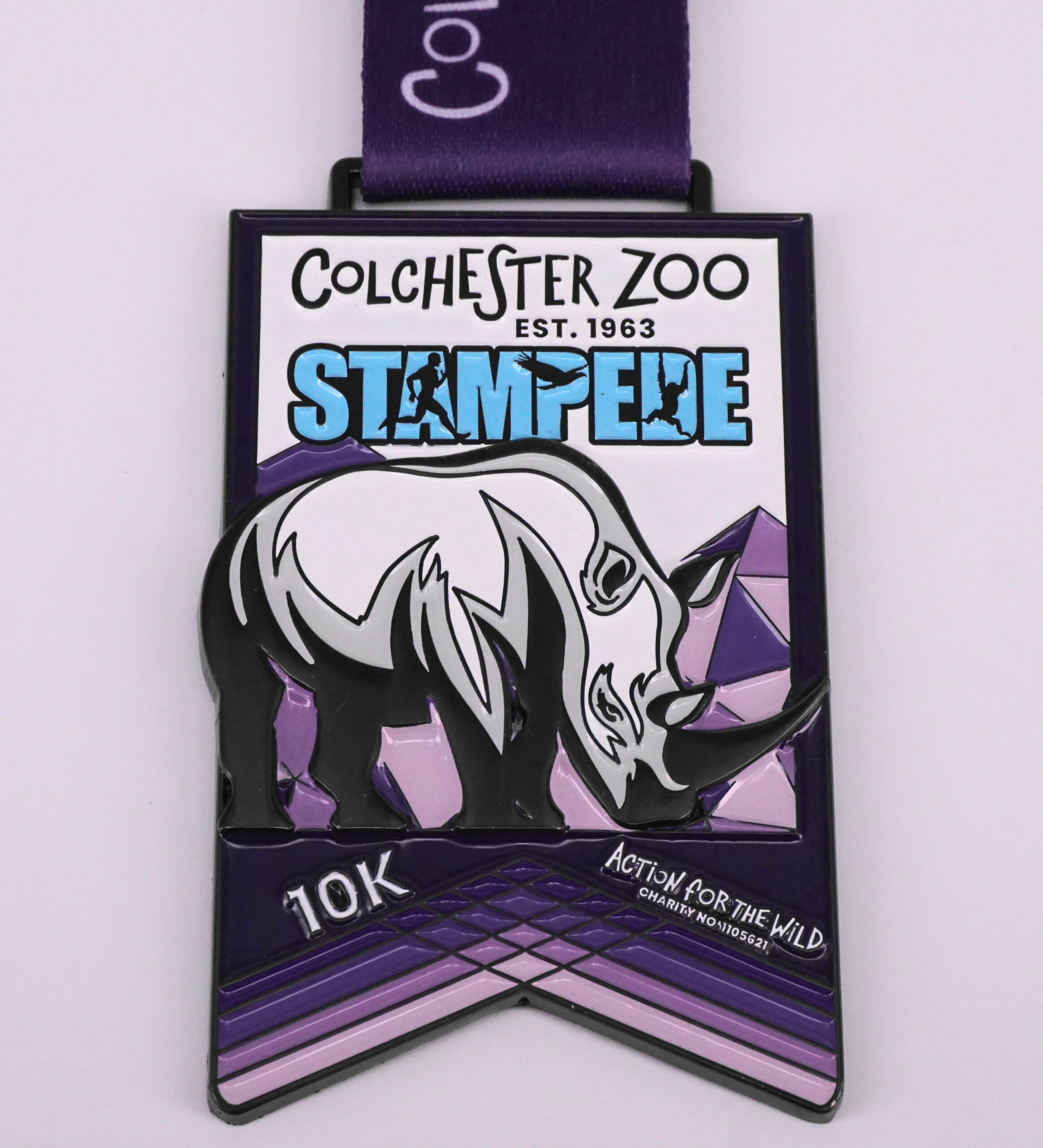 We have been extensively researching into what runners consider important, and sustainability is fast becoming the most important area. Click HERE to see what RunThrough is doing for sustainability.
T-Shirts at events have been a hot topic mainly around them not being a high enough quality to wear on a regular basis. So we have decided to tackle this by offering a RunThrough Kit Technical T-Shirt with a retail value of £22 for £12 with the addition of the event logo printed on the chest.
We can do this with our partner RT Kit as part of a strategic decision to not only raise awareness about the quality of the product but also to counteract the increasing costs incurred in event production in a post-COVID world.
Here at RunThrough we are always looking for likeminded people to join our community. We always value an extra pair of hands and would love for you to come along and help us! From managing stalls at the event village to handing out medals at the finish, our volunteers are a critical part of what make RunThrough events so special! If you fancy volunteering with us as a volunteer at his event or any of our other events please click HERE
Spectators are more than welcome! You can watch many sections of the race from the event village and roads outside of the zoo for free. However, if you'd like to enter the zoo you will require a spectator ticket. Colchester Zoo has reserved a limited number of tickets for friends & family of the runners to visit Colchester Zoo on the day of the race & these will be available to purchase HERE.
Getting there

We recommend you arrive as early as possible, as with many large sporting events there will be traffic coming into the venue. Please plan your journey accordingly!

By Car

The postcode for the event is: CO3 0SL

Colchester Zoo is located just south of Colchester. Take the A1124 exit (Junction 26) off the main A12 following the brown elephant signs and using the new Stanway Western Bypass.

From the M25: About 40 minutes from Junction 28 of the M25 to reach the A12

From Southend: About 1 hour's journey, 40 miles using A127 and A130 to reach the A12

From Hertfordshire: About 1 hour's journey – 50 miles using A414 or A120 to reach the A12

From Stansted Airport: About 50 minutes journey, 30 miles using A120 to reach the A12. For car hire from Stansted Airport www.budget-stansted.com

Colchester Zoo is situated on Maldon Road in Stanway.

The car park will open at 6:45am and we would advise arriving before 7:30am to avoid queuing into the carpark. Please expect a short queue if arriving after 7:45am. There will be plenty of FREE parking available for all runners and spectators next to the event village.

By Rail

The nearest stations are: Colchester North and Marks Tey. 

We advise planning your journey before the race to ensure you arrive at the train station with as much time as possible. Colchester North and Marks Tey train station are a 4 mile walk from the start line.

There are taxi services you can contact if this does not work for you, we'd recommend contacting and booking them well in advance.

The numbers for local services can be found here:

Taxi 555 - 01206 524524

MCS Minicab Services - 01206 544444

Lucky 6 Taxis - 01206 666666

Baggage

The car park is located next to the start and finish line and we therefore recommend leaving any belongings in your car. There will be an informal baggage drop located within the Event Village. If you wish to use the baggage drop, please collect a baggage label from the information desk and attach it to your bag before handing it in.

You will need to show your race number again when collecting your bag to ensure each bag is reunited with its rightful owner.

Toilets

There will be portaloos within the event village.

Refreshments

There will be water provided at the 5k point of the race, and there will also be water available at the finish.

During the race

We will have marshals all around the course as well as km signs and arrows. The course will run through the Zoo, then out onto the closed roads for the 10k course before finishing back inside the Zoo.

Results

Results will be available on the website after the race.

Pictures

We will have a photographer taking a few snaps of the race and they will be on Facebook after the race so be sure to check it out and see if you can spot yourself.

Minimum age
10k-15